Slavery was so divisive and brutal, so molded to break up unity, that we never developed a sense of oneness, as in Judaism. Starting with the individual family unit, the Jewish people are closely knit into what is, in effect, one big family. But with the Negro, slavery separated families from families, and the pattern of disunity that we see among Negroes today derives directly from this cruel fact of history. […]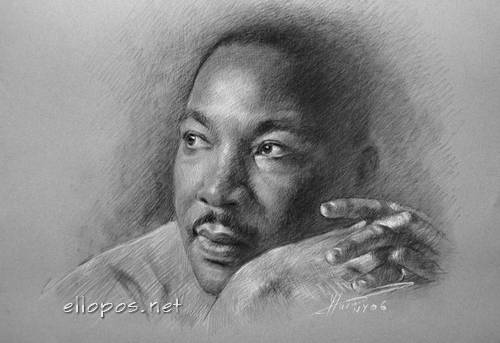 One book, not the Bible: I would have to pick Plato's Republic
Amidst the struggle, amidst the frustrations, amidst the endless work, I often reflect that I am forever giving—never pausing to take in. I feel urgently the need for even an hour of time to get away, to withdraw, to refuel. I need more time to think through what is being done, to take time out from the mechanics of the movement, to reflect on the meaning of the movement.
That's tough [: "If you were marooned on the proverbial desert island, and could have with you only one book—apart from the Bible—what would it be?"] Let me think about it—one book, not the Bible. Well, I think I would have to pick Plato's Republic. I feel that it brings together more of the insights of history than any other book. There is not a creative idea extant that is not discussed, in some way, in this work. Whatever realm of theology or philosophy is one's interest—and I am deeply interested in both—somewhere along the way, in this book, you will find the matter explored. […]
Self examination
I live with one deep concern: Am I making the right decisions? Sometimes I am uncertain, and I must look to God for guidance. There was one morning I recall, when I was in the Birmingham jail, in solitary, with not even my lawyers permitted to visit, and I was in a nightmare of despair. The very future of our movement hung in the balance, depending upon capricious turns of events over which I could have no control there, incommunicado, in an utterly dark dungeon. This was about ten days after our Birmingham demonstrations began. Over 400 of our followers had gone to jail; some had been bailed out, but we had used up all of our money for bail, and about 300 remained in jail, and I felt personally responsible.
It was then that President Kennedy telephoned my wife, Coretta. After that, my jail conditions were relaxed, and the following Sunday afternoon—it was Easter Sunday—two S.C.L.C. attorneys were permitted to visit me. The next day, word came to me from New York that Harry Belafonte had raised $50,000 that was available immediately for bail bonds, and if more was needed, he would raise that. I cannot express what I felt, but I knew at that moment that God's presence had never left me, that He had been with me there in solitary.
I subject myself to self-purification and to endless self-analysis; I question and soul-search constantly into myself to be as certain as I can that I am fulfilling the true meaning of my work, that I am maintaining my sense of purpose, that I am holding fast to my ideals, that I am guiding my people in the right direction. But whatever my doubts, however heavy the burden, I feel that I must accept the task of helping to make this nation and this world a better place to live in—for all men, black and white alike.