The Holy Synod of the Ecumenical Patriarchate of Constantinople on Wednesday, November 27, 2013 declared the sainthood of hieromonk Porphyrios Kafsokalyvitis.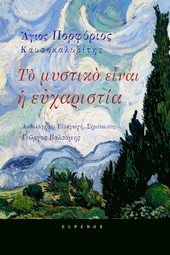 Porphyrios (1906–1991) is known for his gifts of spiritual discernment. He became a monk at the age of fourteen or fifteen. He was unexpectedly elevated to the priesthood at the age of 21 by Porphyrios III, Archbishop of Mount Sinai and Raithu. With the outbreak of World War II he became a hospital chaplain in Athens, in which post he continued for three decades (1940–1970). His later years were devoted to the construction of the Holy Convent of the Transfiguration of the Savior. After 1984 he returned to Mount Athos.
Elder Porphyrios became known to an ever-wider circle of Orthodox followers. Several compilations of stories and sayings attributed to him have been published. According to Porphyrios "this is the way we should see Christ. He is our friend, our brother; He is whatever is good and beautiful. He is everything. Yet, He is still a friend and He shouts it out, 'You're my friends, don't you understand that? We're brothers. I don't hold hell in my hands. I am not threatening you. I love you. I want you to enjoy life together with me.
"Love Christ and put nothing before His Love. He is joy, He is life, He is light. Christ is Everything. He is the ultimate desire, He is everything. Everything beautiful is in Christ."
"If the parents do not become saints and truly love their children and if they don't struggle for it, then they make a huge mistake. With their wrong and/or negative attitude the parents convey to their children their negative feelings. Then their children become reactive and insecure not only to their home, but to the society as well"